Almost after six-year, Apple finally refreshes its Mac Pro lineup. Today at World Wide Developers Conference Apple shows off their upcoming Mac Pro. The new Mac Pro is a return of the old cheese grater design.
The biggest issue with the last trash-can design Mac Pro was the thermal limitation. By the returns of old cheese grater design, Apple tries to address that issue. Apple has gone with a modular 360 degree accessible design for the new Mac Pro. Let's now talk about the specification.
Specification
Processor
The processor is the brain of a system. It defines how much power it has for tasks. This time you can equip new Mac Pro up to 28 core Intel Xeon processor with 2.5 GHz base and 4.4GHz boost clock. According to Apple, the processor will be supplied up to 300W power for optimal performance. Other configurable CPUs are-
8 core Intel Xeon processor with 3.5 GHz base and 4.0 GHz boost clock and 24.5MB cache memory,
12 core Intel Xeon processor with 3.3 GHz base and 4.4 GHz boost clock and 31.25MB cache memory,
16 core Intel Xeon processor with 3.2 GHz base and 4.4 GHz boost clock and 38MB cache memory,
24 core and 48 thread Intel Xeon processor with 2.7 GHz base and 4.4 GHz boost clock and 57MB cache memory.
RAM
RAM is very important in professional workload. With the new Mac Pro, you can go up to insane 1.5TB DDR4 ECC 2999 MHz memory. Mac Pro has 12 user-accessible DIMM slots with 6 channel memory configuration. You have to keep one thing in mind that 8 core version only supports 2666 MHz RAM. Other configurable RAM options are 32GB (Four 8GB DIMMs), 48GB (Six 8GB DIMMs), 96GB (Six 16GB DIMMs), 192GB (Six 32GB DIMMs), 384GB (Six 64GB DIMMs), 768GB (Six 128GB or 12 64GB DIMMs).
Graphics
Apple has gone with a new and very exciting GPU design. With this Mac Pro, Apple is launching a custom expansion module what they call an MPX Module. The module has standard x16 PCIe connector along with another PCIe connector for Thunderbolt 3 connection. MPX Module is a giant quad-wide PCIe card that fits two graphics cards and can provide up to 500W to the GPUs. Apple has used the Radeon Pro Vega II graphics card. In the MPX module, two Vega II graphics are connected Infinity Fabric Link at up to 84GB/s.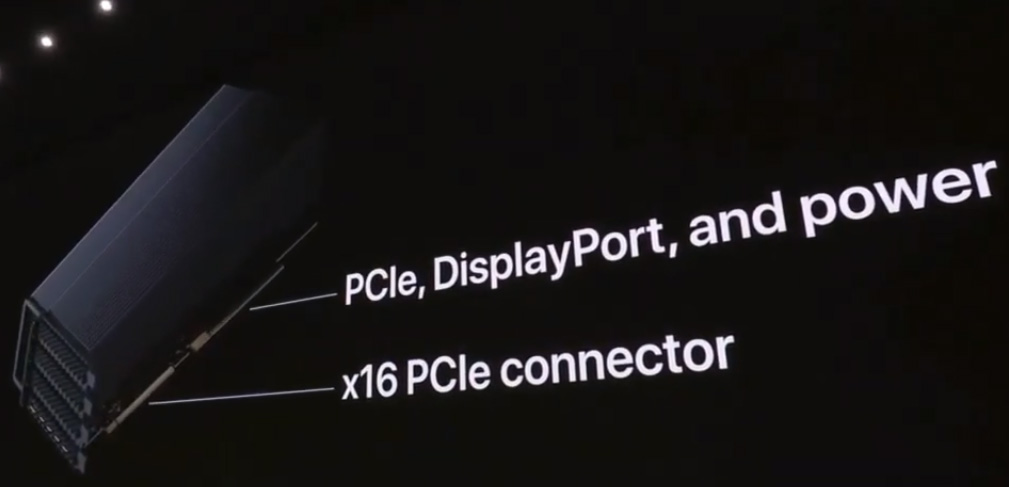 Each Radeon Pro Vega II has 32GB of HBM2 memory with 1TB/s memory bandwidth. You can equip your Mac Pro with two MPX modules that mean four Vega II GPU and 128GB of HBM2 memory. You can also opt for only an AMD Radeon Pro 580X with 8GB of GDDR5 memory.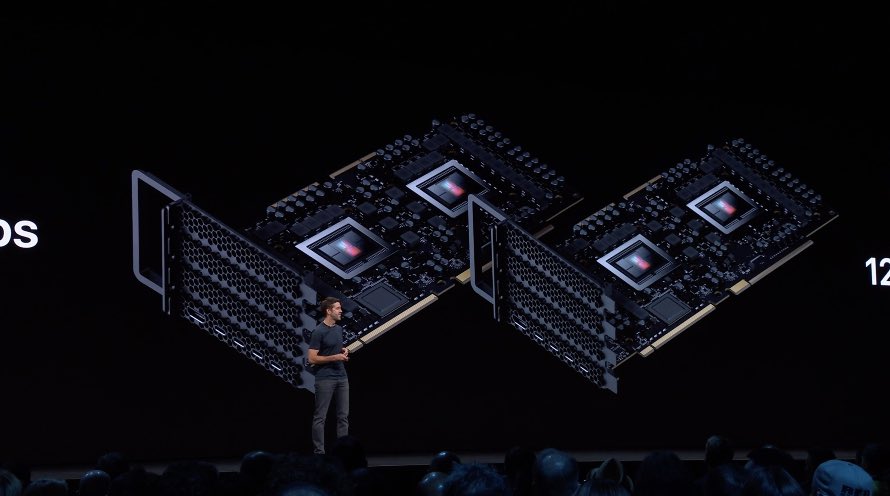 Afterburner
With the 2019 Mac Pro Apple has introduced a dedicated video editing card called Afterburner. It is a PCIe x16 card. It uses an FPGA to process up to 6 billion pixels per second. Afterburner accelerates ProRes and ProRes RAW codecs in Final Cut Pro X, QuickTime Player X, and supported third-party apps. Apple says that it supports playback of up to 3 streams of 8K ProRes RAW or up to 12 streams of 4K ProRes RAW. So with the help of it, you can now use video effects to 8K RAW video and play them in real time.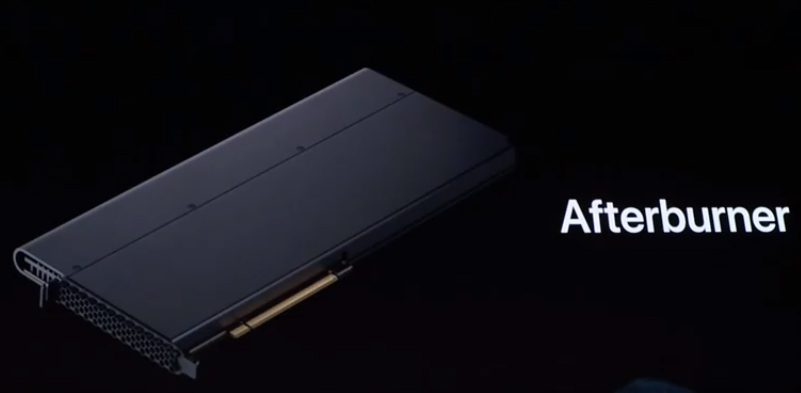 Other
You can go up to 4TB SSD storage with options for 256GB, 1TB, and 2TB. According to Apple, these SSDs can give up to up to 2.6GB/s sequential read and 2.7GB/s sequential write performance. And of course, storage is encrypted by the Apple T2 Security ChipTo powering the monster Apple has uses a 1.4kW or 1400W power supply.
Mac Pro 2019 has a total of eight PCIe expansion slot. Of which four slots are double-wide slots and three slots are single wide slots along with one half-length slot for I/O card. The I/O card has two USB 3 ports, three thunderbolts 3 ports, and two 10 GbE port. Mac Pro has 802.11ac Wi-Fi wireless networking with IEEE 802.11a/b/g/n compatibility. It also has Bluetooth 5.0 and 3.5mm headphone jack.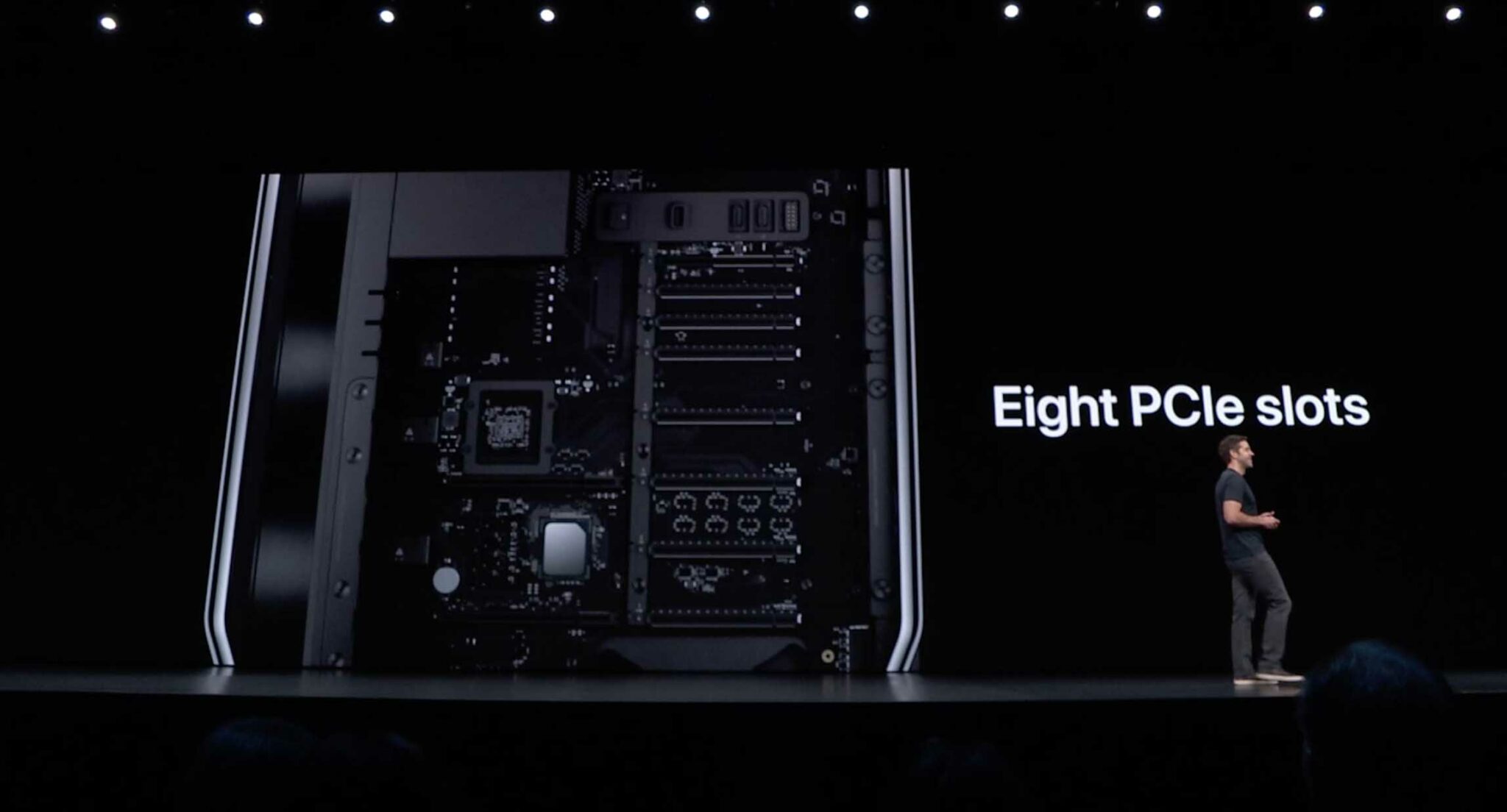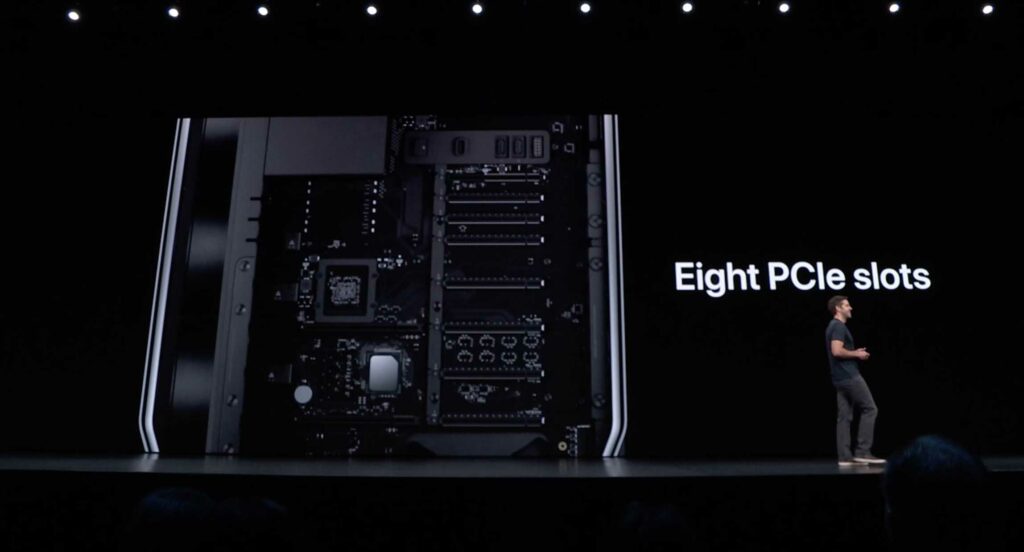 Apple has also released a professional grade 6K Pro Display XDR. It will support HDR with a peak brightness up to 1600 nit. The base model will cost $4999.
Pricing And Availibility
Let's come to the most important thing, the pricing of the new Mac Pro. Its Apple so gets ready for a premium pricing. The new Mac Pro is launching this fall with a starting price of $5,999. That's with a spec vastly below its maxed out exciting new features: you get 32GB of memory, an octa-core Intel Xeon CPU, Radeon Pro 580X graphics, and a 256GB SSD. The price of the top ties version is not available right now. You will get the pricing of all version when it will release on this fall.