Google is officially rolling out Google Chrome 74 update for Windows, Mac, Linux, Chrome OS, and Android (beta). This new update has brought a new interesting feature for Windows 10 user. Now Windows 10 user can enjoy dark mode in Google Chrome. If you are using dark mode in Windows 10 then Google Chrome will automatically theme itself to match that. This new dark mode already arrived last month in the Mac OS with Google Chrome 73 update.

Although Google has not given a straight forward option to enable this feature. But if you are curious and interested to see this new feature in Google Chrome then follow these steps. Before enabling this feature make sure you have the Google Chrome 74. You can download it from here or if you are already using Google Chrome then go to >help then about Chrome to update it.

Steps To Enable Dark Mode In Google Chrome
Find out the shortcut of Google Chrome in your desktop then right click on it and go to properties and then to shortcut.
Add "–force-dark-mode" to the end of the target location without quotes and don't forget to give space before adding it. (you can see in the following picture and there are two "-" before force)
And that's it. Now to launch your Google Chrome to see the dark mode. If you had pinned Chrome in the taskbar then, please unpin it then pin it again to see the effect.
If you don't like the new dark mode just remove "–force-dark-mode" to disable it.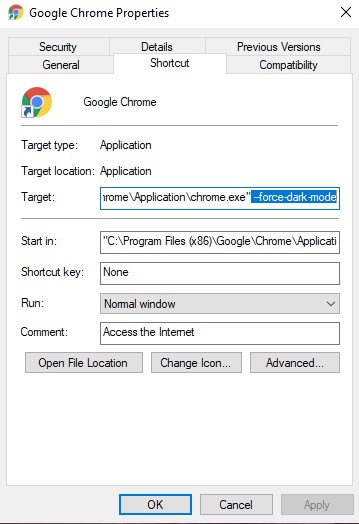 Other Improvements In This Version
Google Chrome beta in Android renamed Data Save Mode to Lite Mode. To enable Lite Mode to go to Settings and scroll down to the Lite mode toggle, and turn it on. In case you're already using Data Saver mode, Lite mode will be automatically turned on for you. Chrome 74 will also disable drive-by downloads in sandboxed iframes. This will prevent malicious websites from trying to distribute malware via shady ads on web pages.\

Another significant improvement that Chrome 74 brings with it is, now it can prevent webpages from opening pop-ups at the time of opening and closing a page.

Google Chrome 74 is now available for Windows, Mac, Linux, Chrome OS, and Android (beta). If you don't want to use the new dark mode still you should download the latest version as it has fixed many security issues. You can learn more about the new improvements here.