Intel made various hardware related in their Invertor Day. CEO Bob Swan announced that the 10nm node based products in 2019 and introduction of their next-gen 7nm node based products in 2021.
Intel's Plan
In Intel's Investor Day's presentation we got a glimpse of Intel's future strategy. Intel wants to fight TSMC's 7nm based products with their 10nm based product and with the 7nm process in 2021 to challenge TSMC's 5nm products.
Intel's 10nm Lineup- 10nm, 10nm+ And 10nm++
After 4 years of development in 10nm processing node, Intel is finally releasing 10nm based processor into the market. 10nm based Ice Lake mobile processor based on sunny cove will be available in June 2019 while the desktop class processors will land in Q4 2019. Server grade Xeon processors are set for an early 2020 release. While 10nm+ based produced are planned for 2020 and 10nm++ planned for 2021.

The 10nm node will have a significant performance increase over current 14nm++ node. Intel's promised upgrades for the 10nm node:
2.7x density scaling vs 14nm
3x faster wireless
2x faster video transcode
2x faster graphics processor
2.5 to 3x faster AI workloads
2nd Gen EMIB
1st Gen Foveros 3D Stacking
Cobalt Interconnect (M0, M1)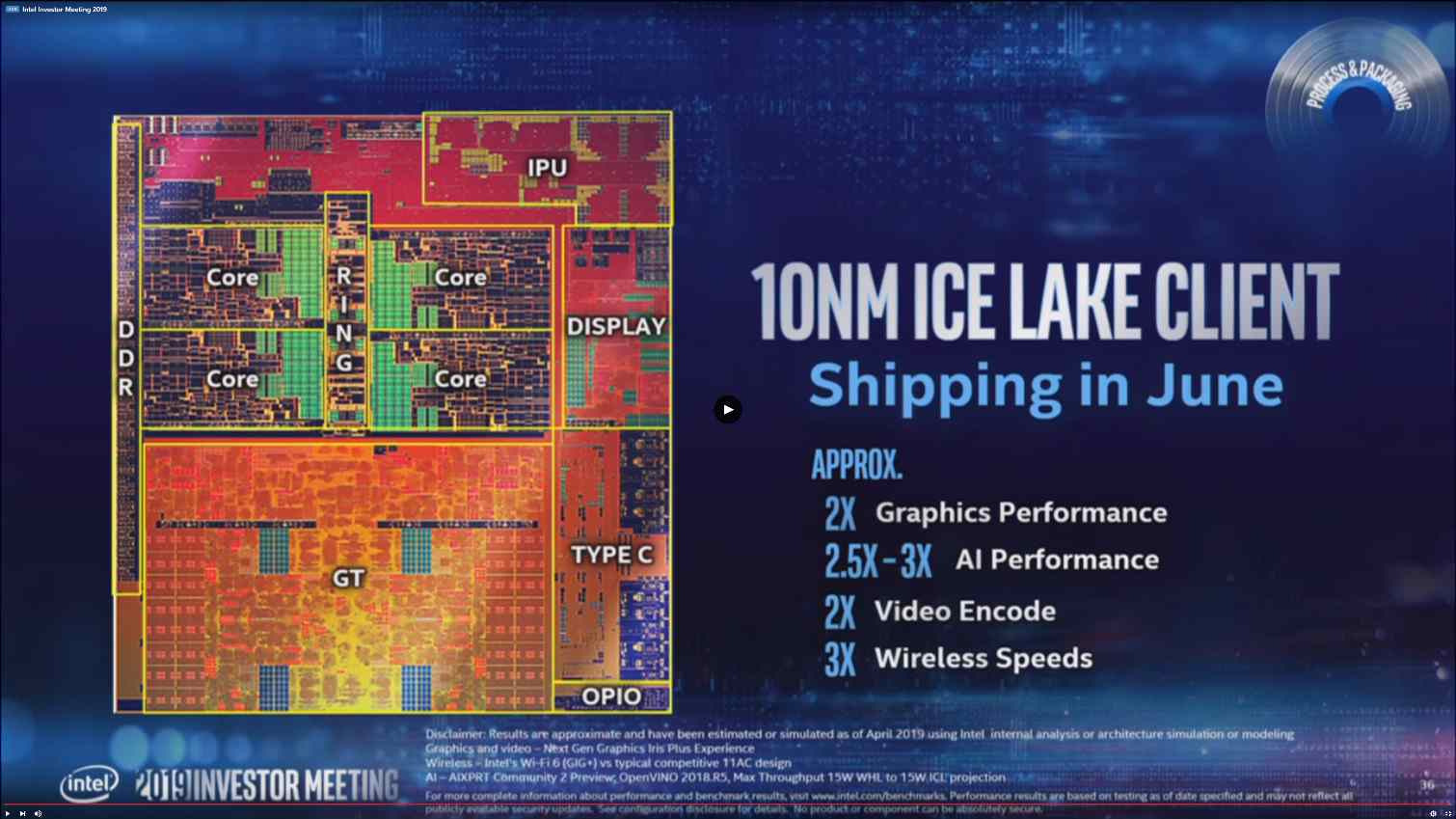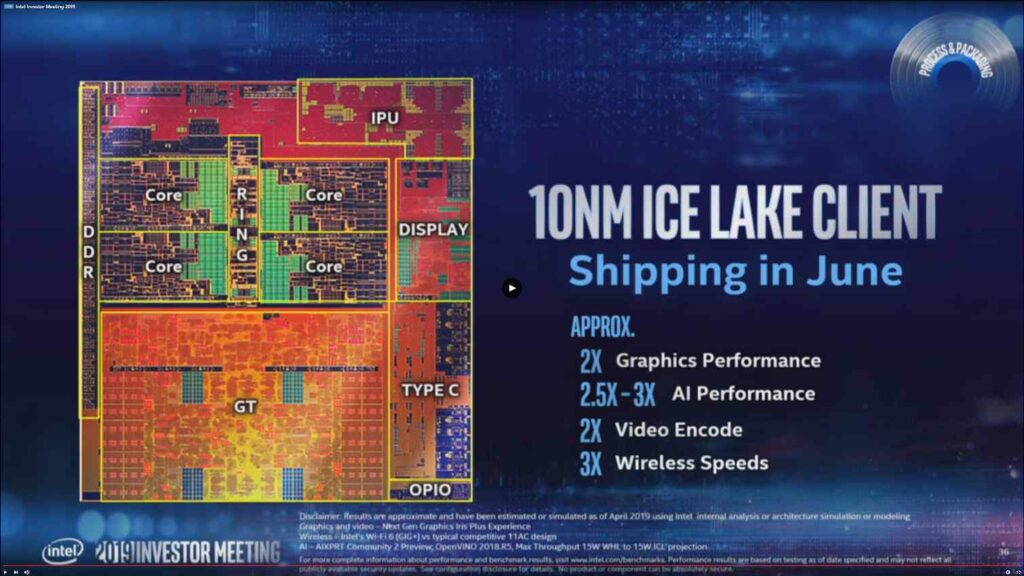 "Intel's first volume 10nm processor, a mobile PC platform code-named "Ice Lake," will begin shipping in June. The Ice Lake platform will take full advantage of 10nm along with architecture innovations. It is expected to deliver approximately 3 times faster wireless speeds, 2 times faster video transcode speeds, 2 times faster graphics performance, and 2.5 to 3 times faster artificial intelligence (AI) performance over previous generation products" Intel said in their press release.
The 10nm node would be utilized in multiple products throughout 2019-2020 which would include Xeon CPUs for HPC, FPGA, 5G/Networking, General-Purpose GPUs and AI inference. Intel also confirmed that they are expecting 14nm supply issues to fully resolve by Q4 2019.
Intel has also disclosed some early configurations on Lakefield SOCs with a 5W & 7W configuration featuring 5 cores and 5 threads (1x Sunny Cove Big Core and 4x Small Core), 2 x 4GB of LPDDR4X memory and a clock speeds of up to 4267 MHz.

Intel 10nm+ Tiger Lake CPUs: New Cpu Architecture
Intel has also announced that they will be introducing 10nm+ based Tiger Lake processor. It will be based on a new CPU architecture, the successor of Sunny Cove in Ice Lake processor. According to the Intel roadmap, this new architecture will be called Willow Cove. Willow Cove is will arrive in 2020, so as Tiger Lake.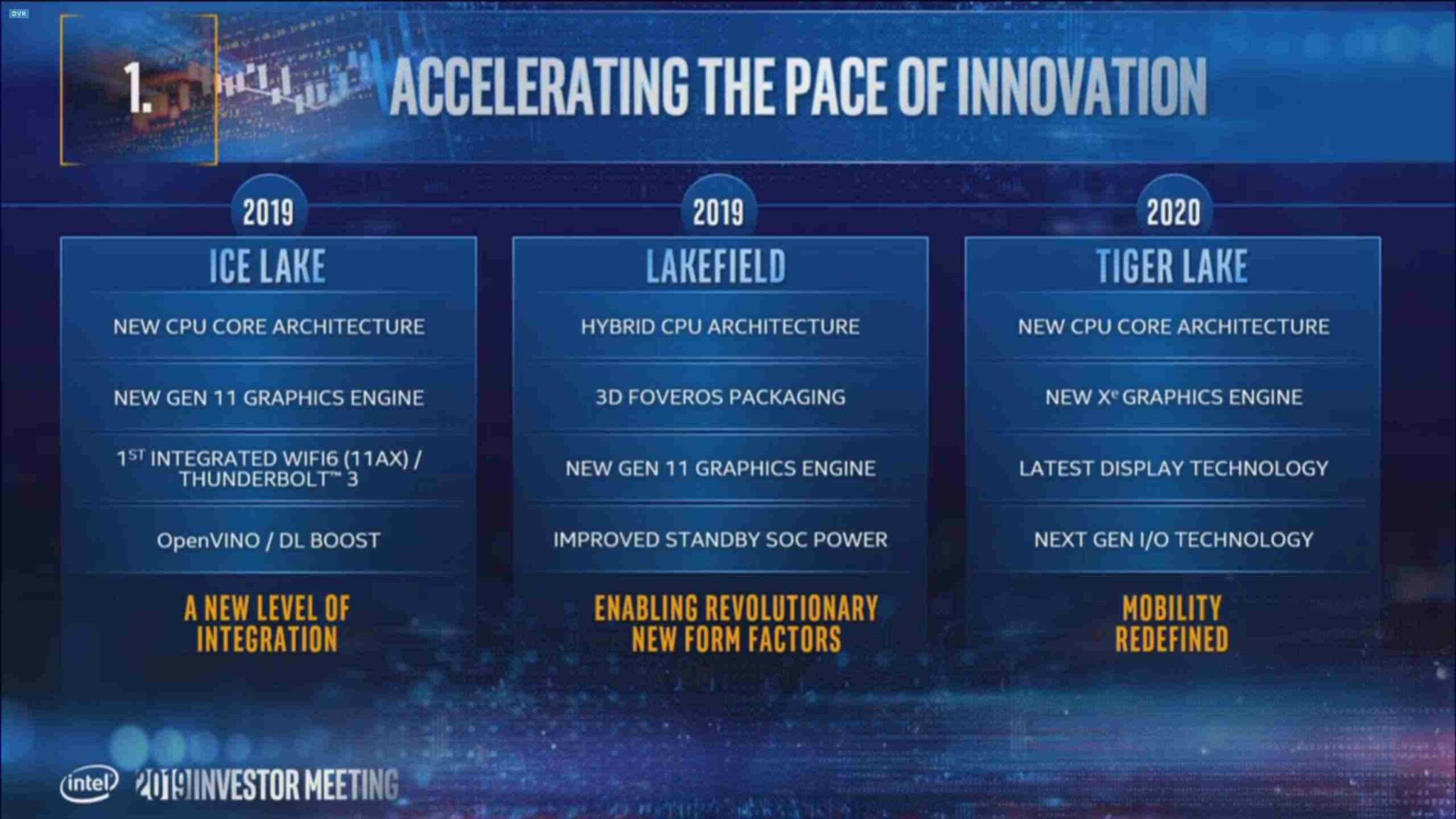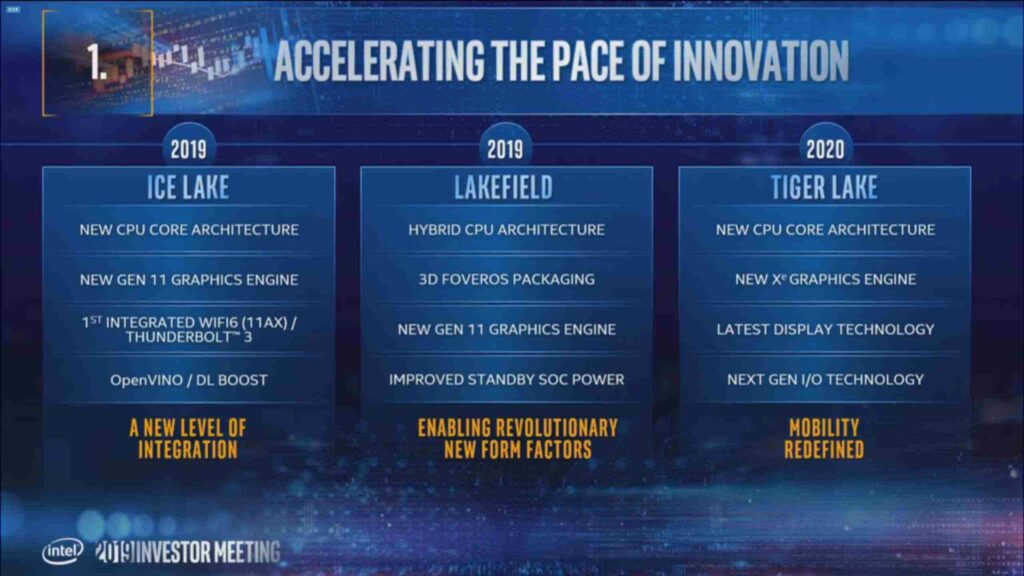 These Tiger Lake processors could push an 8K monitor or multiple 4K displays, which comes courtesy of the Xe Graphics engine. According to Intel, Tiger Lake offers up to four times the graphics performance of Whiskey Lake processors. But it's also notable that the comparison is of a 15W Whiskey Lake processor to a 25W Tiger Lake chip, meaning this is not an accurate representation of comparison.

Intel 7nm Lineup: 7nm, 7nm+, 7nm++
Intel announced that they will introduce 7nm based processor by 2021. So the 10nm node will last for three years and in these three years, they will develop the required technology for 7nm processing node. But then again we were supposed to see their 10nm chips 4 years back and they're still not here. So is this announce made to attract investors? Ok, let's not go there and let's talk about the technical aspect of 7nm line up.

Intel will use their experience of the 14nm and 10nm lineups to make a powerful 7nm lineup. Intel would continue to offer optimizations of the 7nm process node with 7nm+ in 2022 and 7nm++ in 2023. Just like 10nm, 7nm will also include much enhancement over the previous gen:
2x density scaling vs 10nm
Planned intra-node optimizations
4x reduction in design rules
EUV
Next-Gen Foveros & EMIB Packaging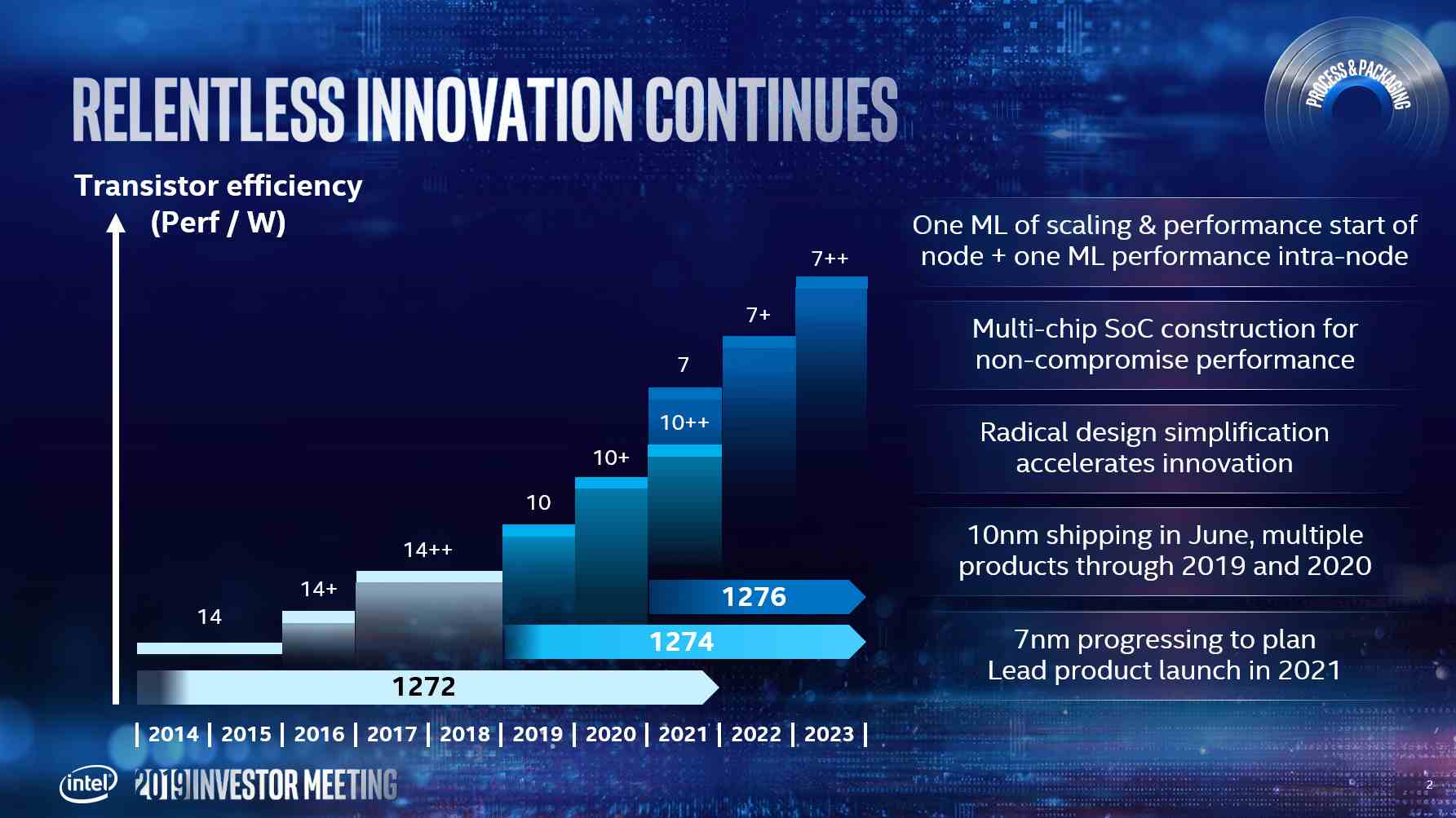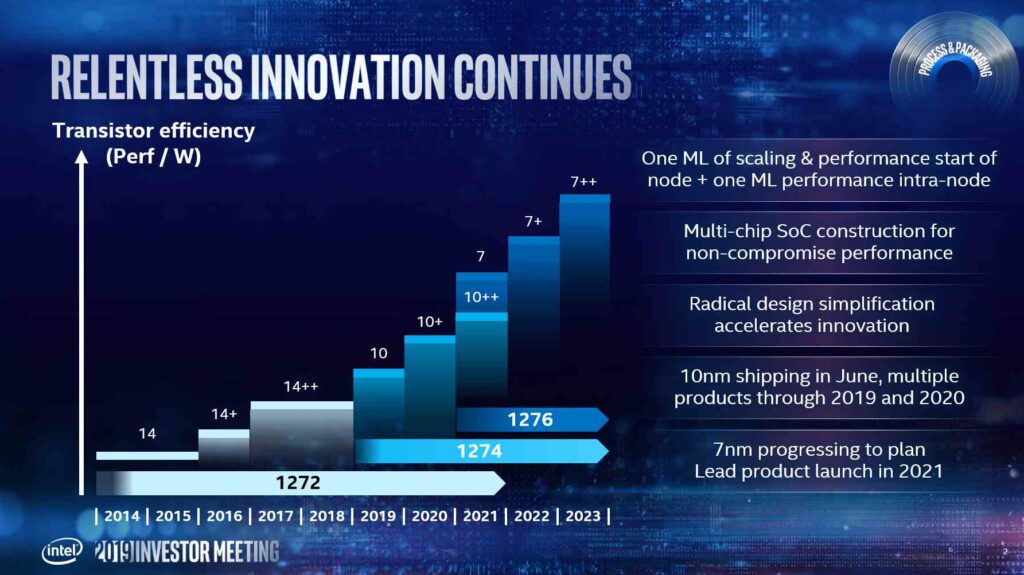 "Renduchintala provided first updates on Intel's 7nm process technology that will deliver 2 times scaling and is expected to provide approximately 20 percent increase in performance per watt with a 4 times reduction in design rule complexity. It will mark the company's first commercial use of extreme ultraviolet (EUV) lithography, a technology that will help drive scaling for multiple node generations." Intel said in their press release.
Intel also expects a 15percent improvement in transistor performance and a 20 percent improvement in performance-per-watt. There was also mention of future iterations of the Foveros and EMIB packaging that might as well be the future of the semiconductor industry as silicon miniaturization has started to hit its limits and Moore's law is long dead.

The Xe Graphics Architecture – 10nm in 2020 and 7nm in 2021
Intel will use its EMIB (Embedded Multi-Die Interconnect Bridge) and 3D Foveros technologies which means we are going to see a one-chip, single-stacked-chip harmony between the GPU, memory and interconnect.  This will allow High-Bandwidth memory to be stacked right on top of the GPU die and this will be smaller than current GPUs.
Intel confirmed that the 7nm bases Xe GPUs would be introduced first on Datacenter markets, targeting AI and HPC workloads by 2021. While the 10nm based consumer Xe GPUs will go on sale in 2020. Intel also revealed that the new GP-GPU design would power the exascale Aurora supercomputer.