I know you might be wondering after reading the headline that Opera is building a "gaming browser". But what is a gaming browser? According to Opera, a browser that has customizable CPU and RAM limiters, Twitch integration, a dedicated gaming-related tab, and sound FX can be categorized as a gaming browser. This will help gamers to minimize system resource for browser and save those resources for the better gaming experience.
The gaming browser is a customized version of the normal Opera browser. It features GX control panel which lets users determine how much of the system's CPU and RAM are allotted to the browser. Opera GX has a dedicated tab called GX Corner which will show you deals in gaming and currently circulating news stories.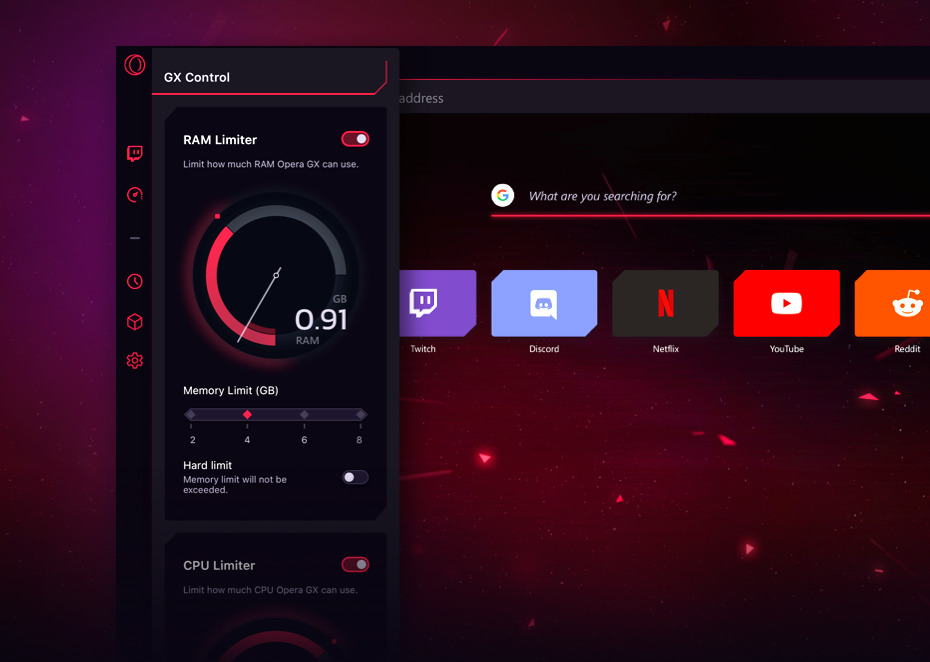 "Running a game might require a lot of effort from your machine. Even more so if you are streaming while you play. Before Opera GX, gamers often shut down their browsers in order to not slow down their gaming experience. We came up with the GX Control feature to make people's games run more smoothly without requiring them to compromise on what they do on the web," explains Maciej Kocemba, product director of Opera GX.
Aside from resource limitation It also has Twitch integration. Just log in to Twitch in Opera and the left-hand sidebar will give you quick access to your feeds and will notify you when your favorite streamers go live.
This 2019, so gaming with RGB doesn't sound promising. Well, Opera has you covered. Razor Chroma is integrated into the browser. So if you have Razor peripherals, you can sync their RGB with the chosen highlight colors in the browser.
Since this is a browser for online gamers and streamers, the browser's default news and start page links have also been customized to include any gamer's favorite destinations, such as Twitch, YouTube, Discord, and gaming-focused news sites. It has also the normal Opera features like built-in ad-blocker, VPN, support for detachable video popups.
"Instead of the usual versions, the browser's development will progress in levels," the company explains. "The initial early access version is designed for people who love games. They will also have the opportunity to shape the next versions, as Opera's developers have added special "feedback" boxes throughout the browser, where particular features can be rated with one to five hearts."
All of this feature may sound silly to you. But as from a gamer's perspective, it is a very good step from the browser developer to give users power for customization. If you are excited about this browser then you can download and give it a try. As of now, it is only available for Windows Users.