Microsoft's latest Windows 11 development build brings many new features and improvements, including introducing a TPM (Trusted Platform Module) Troubleshooter tool. This tool aims to assist administrators in resolving TPM-related issues and ensuring a more secure computing environment. With TPM becoming a requirement for Windows 11, Microsoft is addressing the challenges users and administrators face.
TPM Requirement and Challenges:
When Windows 11 was released, Microsoft made TPM mandatory, citing enhanced security measures and better support for key features on all Windows 11 devices. However, this requirement posed several challenges for users and administrators. The official installer prevented installations on systems without a TPM chip, causing inconvenience for those lacking the necessary hardware. Additionally, updates on systems with TPM chips also encountered issues.
Addressing TPM Issues:
To mitigate these problems, Microsoft has introduced the TPM Troubleshooter tool in Windows 11 build 25905. This tool is designed to fix common TPM-related issues automatically and allows resetting TPM settings if needed. By incorporating this troubleshooting assistant into the Windows Security app, Microsoft aims to streamline the process of resolving TPM-related errors.
Accessing the TPM Troubleshooter:
Windows 11 users can access the TPM Troubleshooter tool by navigating to the Device Security section in Windows Security. Users can click Start > Settings > Privacy & Security> Windows Security to reach this section. The TPM Troubleshooter option can be found within the Security processor troubleshooting menu. This feature helps identify common TPM problems and suggests appropriate solutions. Furthermore, an additional option to clear TPM settings to their defaults is provided, requiring a device restart to complete the process.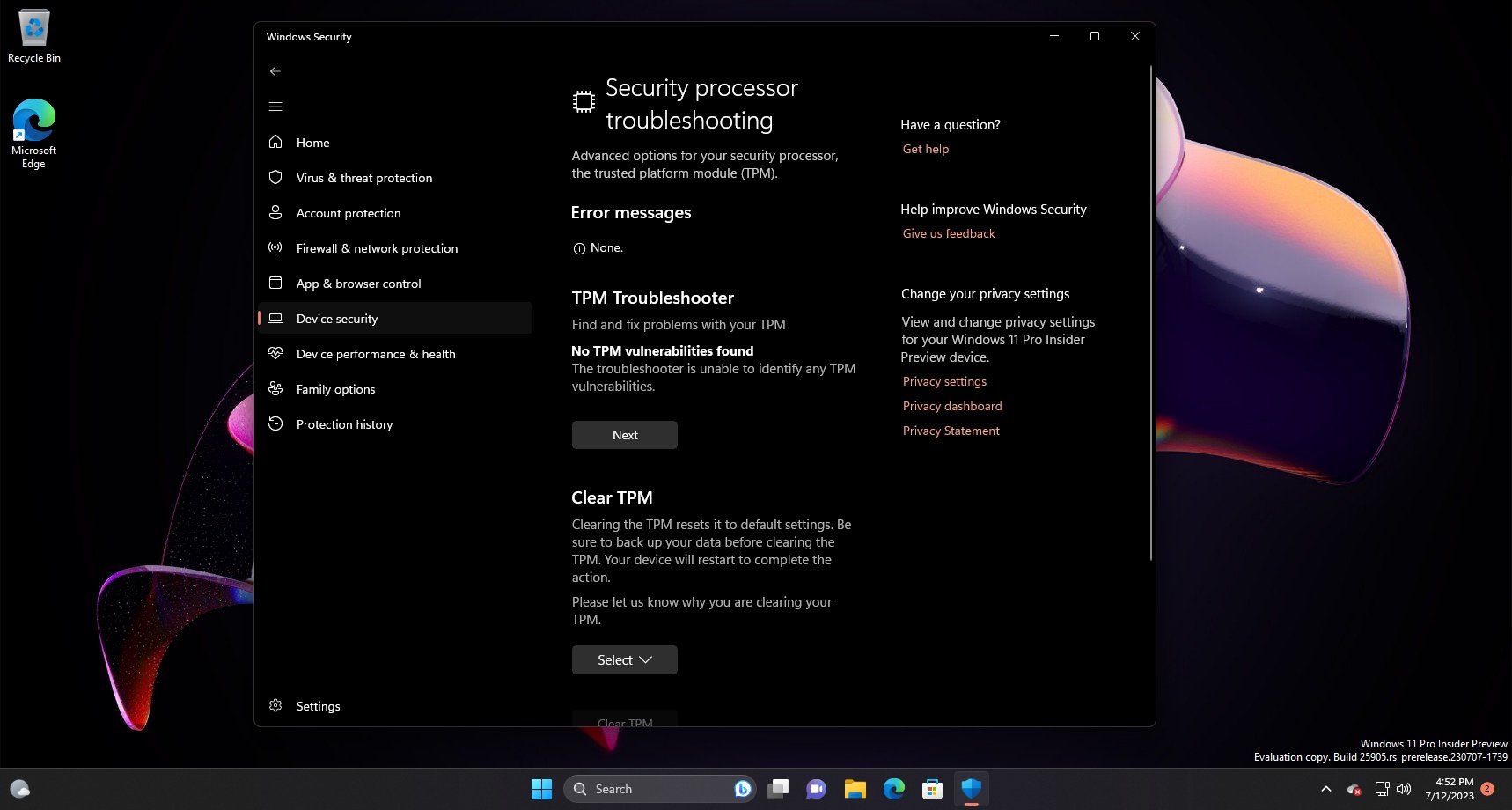 Rollout and Future Prospects:
Microsoft is gradually rolling out the TPM Troubleshooter tool to the development population, although no official announcement has been made yet. It is important to note that the official release post of build 25905 does not specifically mention the TPM Troubleshooter as a new feature. However, its presence indicates Microsoft's commitment to addressing the challenges administrators and users face in dealing with TPM-related issues.