AMD has announced Zen-3 architecture-based Ryzen 5000 desktop CPUs. The Zen 3 architecture is built on a 7nm process from TSMC and it promises to provide 19% IPC or Instruction per Clock improve over the last-gen Ryzen 3000 desktop processor. The newer Zen 3 architecture has enabled AMD to implement some of the new features like direct access to L3 cache for all cores etc. AMD has released a total of four CPUs in this launch event and all the CPUs will hit the shelves on November 5th.
Ryzen 5000 Series Desktop CPUs Specification
| CPU Name | Cores/Threads | Base Clock | Boost Clock | Cache (L2+L3) | TDP | Price |
| --- | --- | --- | --- | --- | --- | --- |
| AMD Ryzen 9 5950X | 3.4 GHz | 3.4 GHz | 4.9 GHz | 72 MB | 105W | $799 |
| AMD Ryzen 9 5900X | 12/24 | 3.7 GHz | 4.8 GHz | 70 MB | 105W | $549 |
| AMD Ryzen 7 5800X | 8/16 | 3.8 GHz | 4.7 GHz | 36 MB | 105W | $449 |
| AMD Ryzen 5 5600X | 6/12 | 3.7 GHz | 4.6 GHz | 35 MB | 65W | $299 |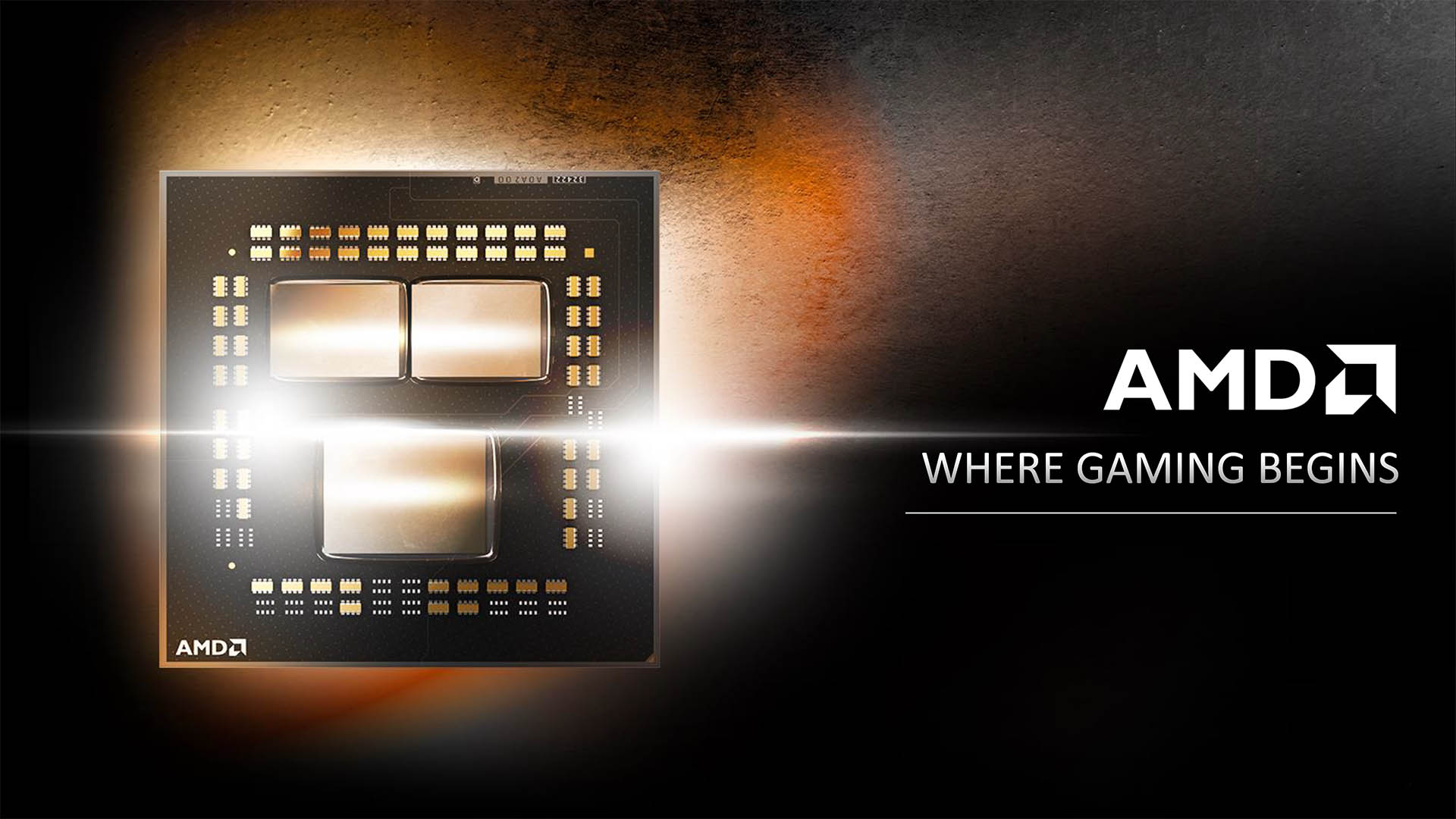 Ryzen 9 5950X
Ryzen 9 5950X is the top of the Ryzen 5000 series. It is a 16 cores and 32 threads processor with a 3.4 GHz base clock and 4.9 GHz boost clock speed. AMD Ryzen 9 5950X has 64 MB of L3 cache and a TDP of 105W. The AMD Ryzen 9 5950X is going to cost $799 US and will be available on the 5th of November like the rest of the lineup.
Ryzen 9 5900X
Next, we have Ryzen 9 5900X on the list. It is a 12 cores and 24 threads processor. Ryzen 9 5900X has a base clock of 3.7 GHz and a boost clock of 4.8 GHz. The chip has a total cache of 70 MB and a TDP of 105W. AMD is calling this processor the 'World's Best Gaming CPU'. The AMD Ryzen 9 5900X will feature a retail price of $549 US which is $50 US higher than the MSRP of the Ryzen 9 3900XT.
In terms of performance Ryzen 9 5900X is the direct competitor to the Intel Core i9-10900K, which has an MSRP of $529. According to the AMD Ryzen 9 5900X performs 19% better in the single-threaded test in Cinebench R20. AMD also claimed that AMD 9 5900X performs up to 21% in various games compare to Intel's Core i9-10900K.
Ryzen 7 5800X
Ryzen 7 5800X is the successor of the Ryzen 7 3700X. It is an 8 cores and 16 threads processor and only has a single chiplet. The Ryzen 7 5800X 36 MB of cache and a TDP of 105W. The chip offers a 3.8 GHz base clock and a 4.7 GHz boost clock. The CPU is priced at $449. The Ryzen 7 5800X will be competing against Intel's Core i7-10700K which is priced at $409.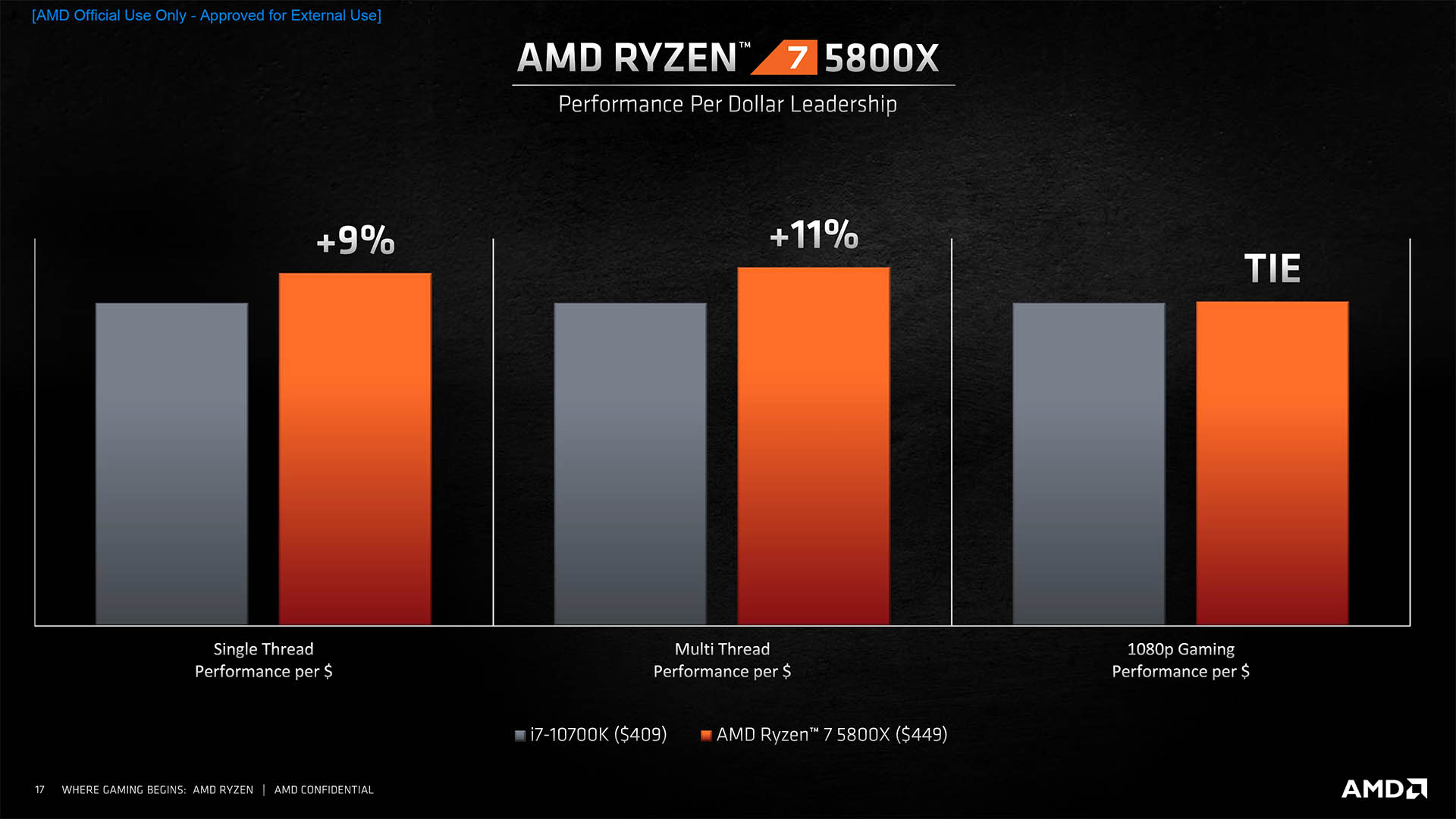 Ryzen 5 5600X
The last CPU that AMD announced is Ryzen 5 5600X which will follow the footstep of the Ryzen 5 3600X. This is a 6 cores and 12 threads processor. Ryzen 5 5600X has a base clock of 3.7 GHz and a turbo frequency of 4.6 GHz. The chip features a total of 36 MB of cache and a TDP of 65W. The CPU is priced at $299. The competition for the Ryzen 5 5600X is likely to be Intel's Core i5-10600K, which has the same price of $299.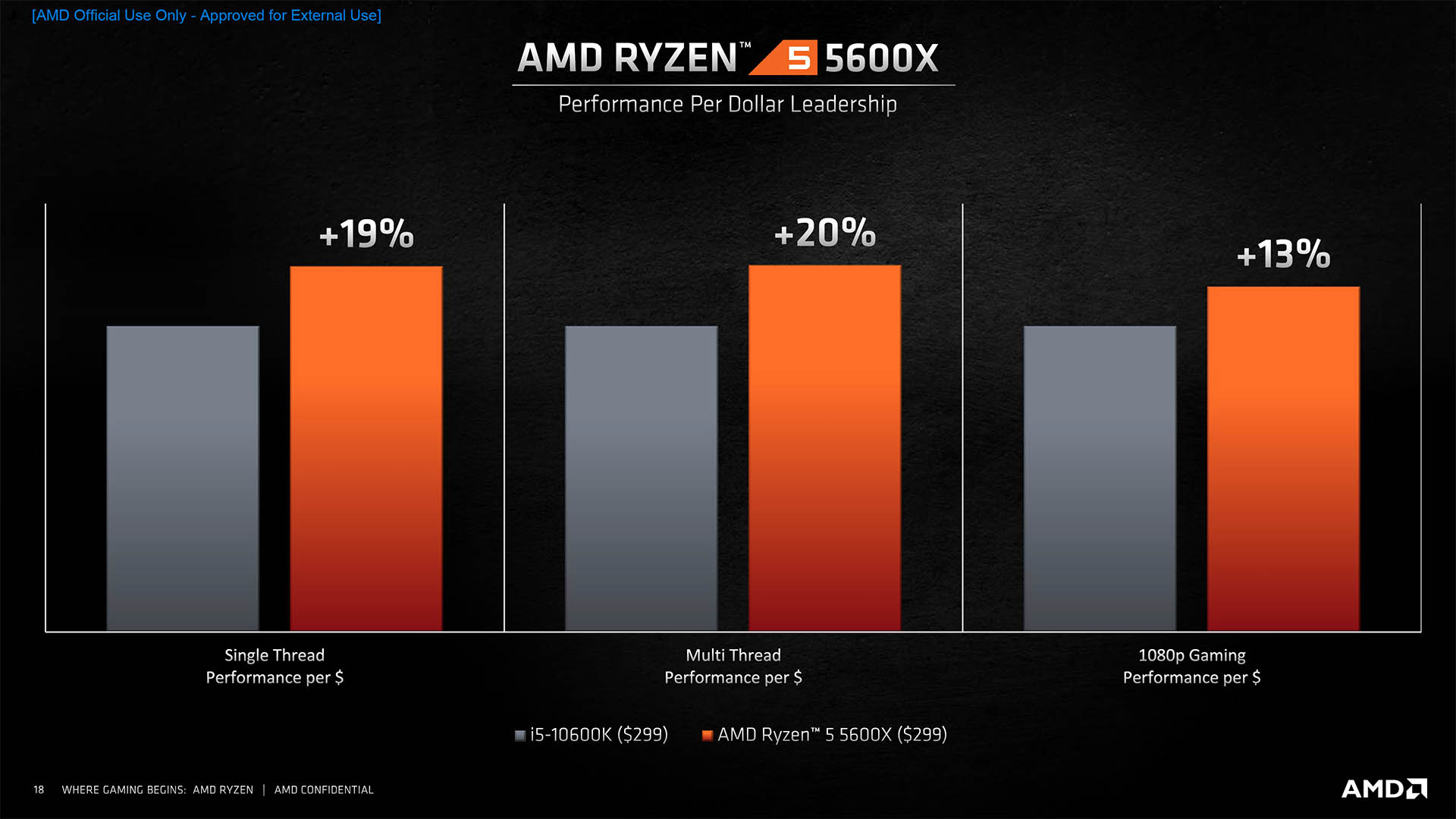 AMD Zen 3 Core Architecture
All the Ryzen 5000 series will feature the new AMD Zen 3 architecture. It is built upon the success of the Zen 2 architecture. AMD said that this architecture isn't a tweaked version of Zen 2 architecture rather it build from the ground up. Although it still uses the TSMC's 7nm process, AMD claimed that Zen 3 architecture will provide a 19% IPC uplift compare to Zen 2 architecture.
In the Zen 3 architecture, AMD has combined two four core based core complexes or CCX to a single eight-core based CCX. This means that all eight cores have access to the 32 MB of L3 cache inside a chiplet. For Zen 2, the L3 cache was split between the two CCX's with each CCX having their own separate (Up To) 16 MB cache.
All four of the CPUs will be available from November 5th.