AMD officially unveiled the highly anticipated Navi GPU series. At New Horizon Gaming day at E3, AMD launched their Radeon RX 5700 series which includes the Radeon RX 5700 XT and the Radeon RX 5700 graphics cards. But these cards will not beat the high-end RTX cards. But it will be comparable to Nvidia,s RTX 2070 and RTX 2060.
RX 5700 Specification:
AMD Radeon RX 5700 has 2340 stream processor and 144 texture unit and 36 compute engine. It has a boost clock of 1725 MHz, at which it can produce up to 9.75 TFLOPS of computing performance. It has a base clock of 1465 MHz and game clock of 1625 MHz. AMD said that Game clock represents a typical rate across more than 20 games it tested. So you expect it runs somewhere between 1625 MHz to 1725 MHz. While 1465 MHz will sustainable clock speed.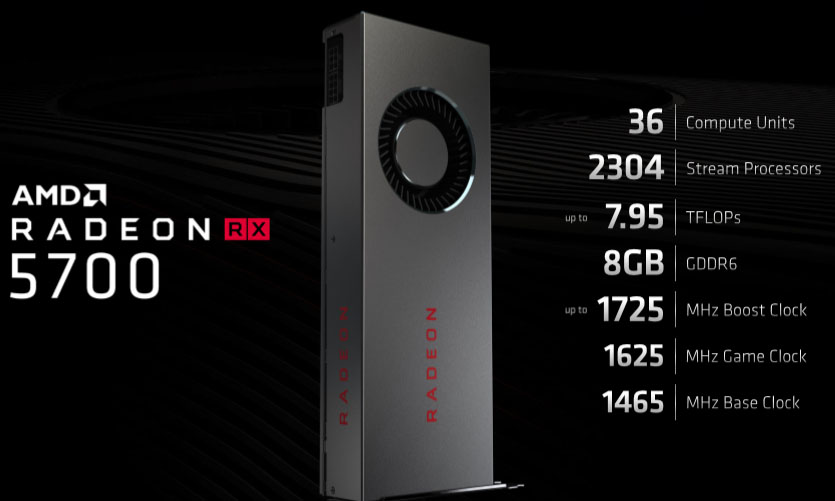 The card also features 8 GB of GDDR6 memory which runs across a 256-bit wide bus interface. AMD will be using the latest 14 Gbps memory dies which put them on par with the Turing TU104 cards that offer bandwidth of up to 448 GB/s. The card features a 6+6 pin connector config & has a rated TDP of 180W.
RX 5700 XT Specifications:
The Radeon RX 5700 XT has 2560 Stream Processors, 160 texture engine and 40 Compute engine. It has a base clock of 1605 MHz, Boost Clock of 1905 MHz and Game Clock of 1755 MHz. At peak clock speed RX 5700 XT can facilitate up to 9.75 TFLOPs of computing performance. Most of the time RX 5700 XT will give clock speed somewhere between the Game clock and Boost Clock. On paper, that'd put the card somewhere between Radeon RX 590 and Radeon RX Vega 56.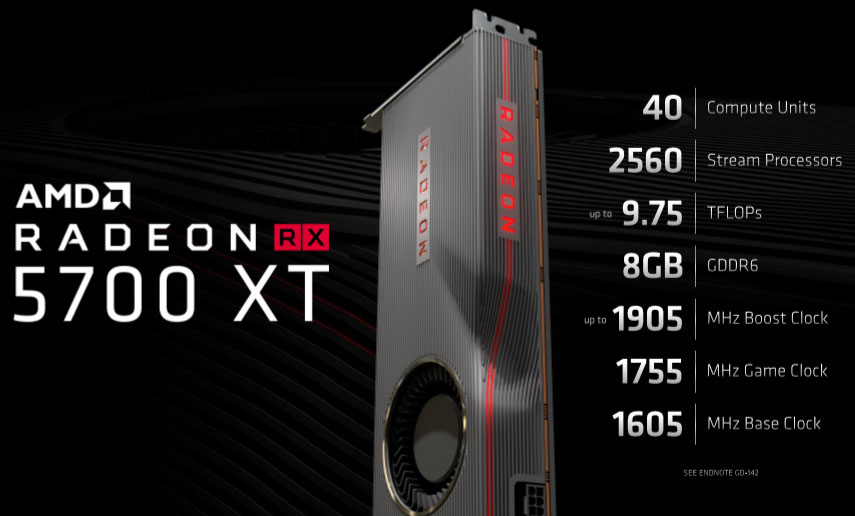 AMD pairs the Radeon RX 5700 XT to 8GB of GDDR6 memory transferring data at 14 GBps over a 256-bit bus. The resulting 448 GBps of theoretical bandwidth exceeds the 410 GBps available to Radeon RX Vega 56 through its 8GB of HBM2 but trails Radeon RX Vega 64's 483 GBps. RX 5700 XT also features 8+6 pin connectors and has a total TDP of 225W.
AMD has redesigned its thermal shrouds. Radeon RX 5700 XT will be a dual-slot implementation with a centrifugal fan that blows air through an aluminum fin stack sitting on a vapor chamber base and exhausts waste heat out the back of the card.  AMD also assures us that it carefully controls fan speed to keep the sound level under 43dB(A). RX 5700 Xt features a seven-phase power system to ensure smooth overclocking.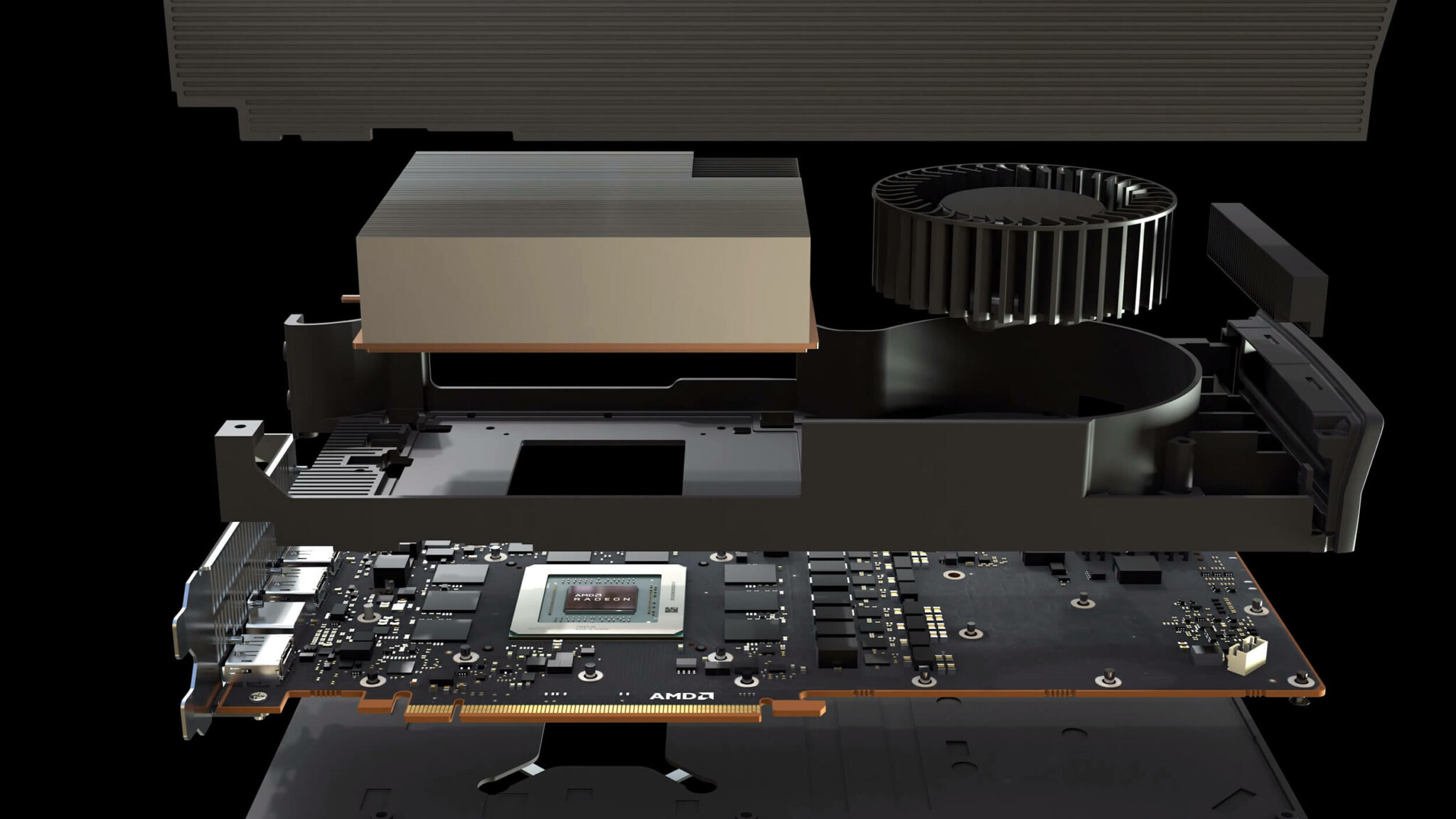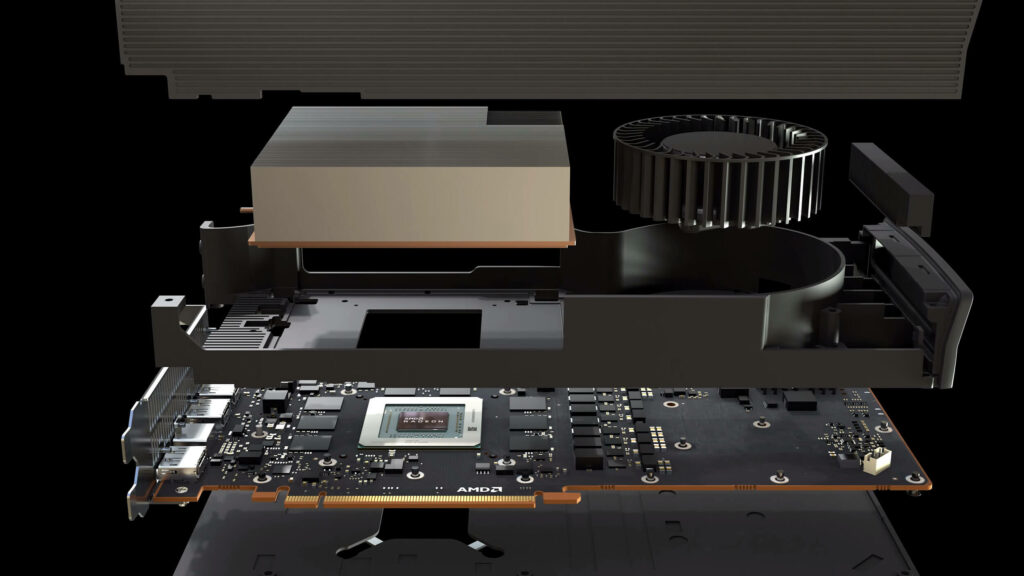 RX 5700 XT 50th Anniversary Edition Specifications:
In addition to the AMD Radeon RX 5700 XT and Radeon RX 5700, AMD is also launching a 50th Anniversary Edition variant of their Radeon RX 5700 XT featuring a black and gold shroud. It has 1680 MHz base clock, 1830 MHz game clock and boost clocks of up to 1980 MHz. It can deliver up to 10.14 TFLOPs of computing performance.
Specification Of Navi GPU Series:
RDNA gaming architecture:
Navi GPUs are built on a new architecture called RDNA. This is the first non-GCN GPU series.  It features a new compute unit design optimized for improved efficiency, and a multi-level cache hierarchy designed to provide reduced latency, higher bandwidth, and lower power. It also includes a streamlined graphics pipeline that is optimized for performance-per-clock and high clock speeds. According to AMD RDNA has brought up to 1.25X higher performance-per-clock and up to 1.5X higher performance-per-watt compared to the previous-generation Graphics Core Next (GCN) architecture.
Radeon Image Sharpening (RIS):
AMD has introduced Radeon Image Sharpening or RIS technology to Restores clarity to in-game images that have been softened by other post-process effects. According to AMD,  RIS combines with GPU upscaling to provide sharp visuals at fluid frame rates on very high-resolution displays and works across DirectX 9, 12, and Vulkan titles.


FidelityFX:
AMD has released an open source tool kit for developers called FidelityFX. It will help developers to create high-quality post-processing effects optimized for Radeon GPUs. FidelityFX features Contrast-Adaptive Sharpening (CAS) that draws out detail in low-contrast areas while minimizing artifacts caused by typical image sharpening routines. According to AMD FidelityFX will not hurt gaming performance at all.


Radeon Multimedia Engine:
New Radeon Multimedia Engine will give improve performance for H.265, H.264, and VP9 encoding and decoding. It will increase encode speed up to 40% over the last generation.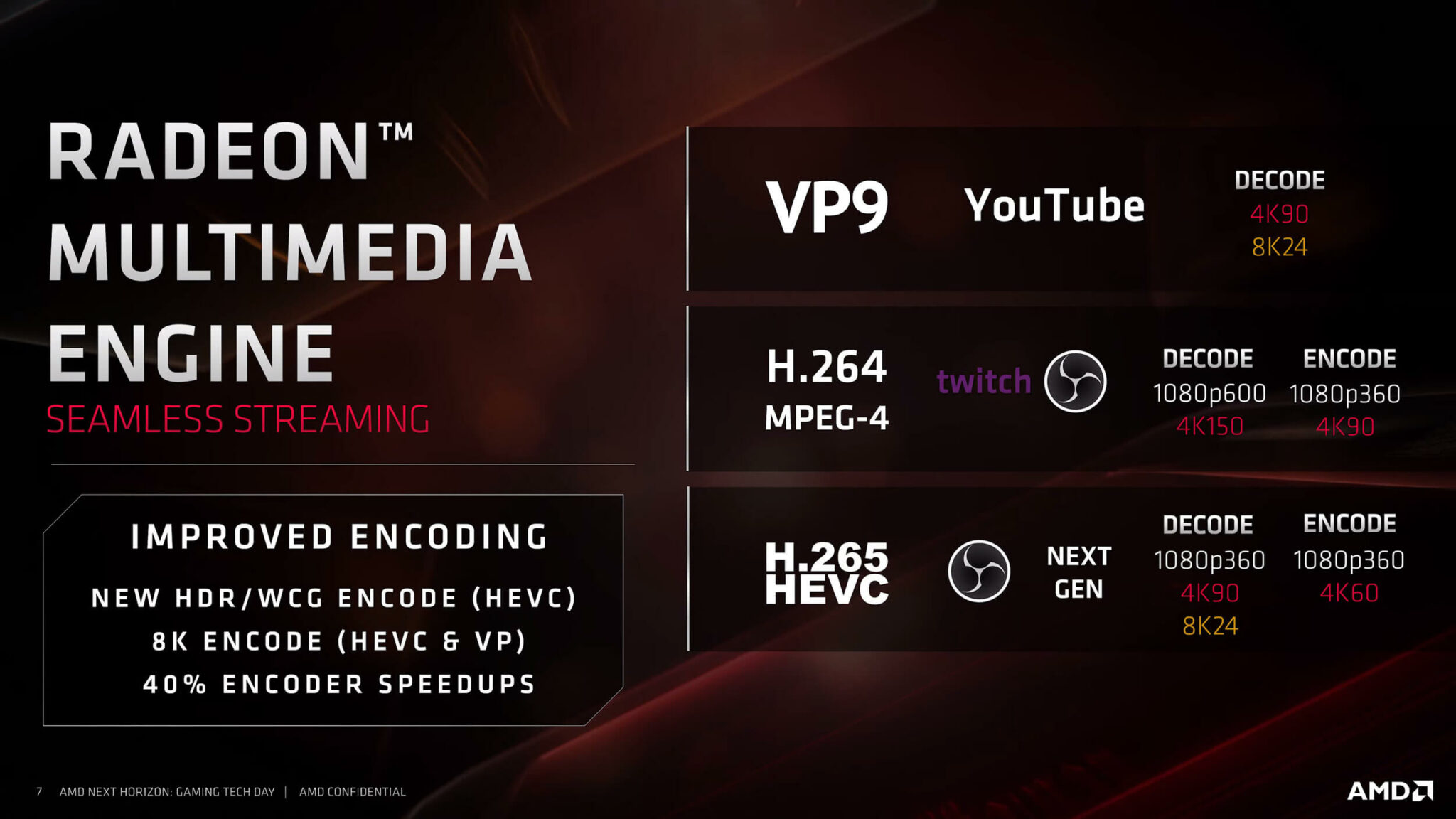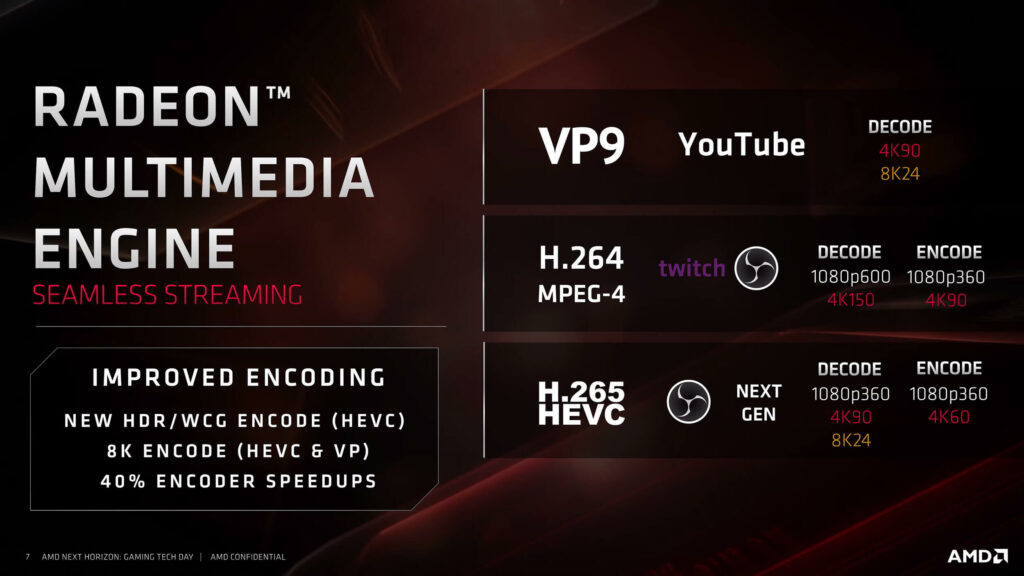 Radeon Display Engine:
The Radeon Display Engine will pick up Display Stream Compression 1.2a support. This supports monitors up to 4K @ 240Hz as well as 4K HDR @ 120Hz and 8K HDR @ 60Hz. Notably, however, the new cards don't support HDMI specification 2.1.
AMD Radeon RX 5700 Series Vs Nvidia Offerings:
AMD has also shared the official performance numbers for their Radeon RX 5700 series graphics cards. Performance for both cards is shown at 1440p resolution in a range of titles and it looks like both, the Radeon RX 5700 XT and Radeon RX 5700 graphics cards would be on average, 10% faster than their competitors. The Radeon RX 5700 XT is pitted against the NVIDIA GeForce RTX 2070 and the Radeon RX 5700 is pitted against the NVIDIA GeForce RTX 2060.
We also have to keep in mind that RX 5700 XT is $50 cheaper than Nvidia RTX 2070 and RX 5700 is $20 cheaper than the Nvidia RTX 2060. But all benchmark numbers are provided by the AMD, we should take these numbers as a grain of salts.
What About RayTracing:
Navi does not incorporate hardware support for ray tracing in any form. AMD is indeed developing their own suite around it. According to their vision, current GCN and RDNA architecture will be able to perform ray tracing on shaders which will be used through ProRender (Creators) and Radeon Rays (Developers). In next-gen RDNA which is supposed to launch in 2020 on 7nm+ node, AMD will be bringing hardware-enabled ray tracing with select lighting effects for real-time gaming. AMD will also enable full-scene ray tracing which would be leveraged through cloud computing.
Pricing And Availability:
The RX 5700 will cost you $379 and RX 5700 XT will be available for $449. Both cards will be available to buy from July 7, 2019. The AMD 50th Anniversary Edition Radeon™ RX 5700 XT graphics card is expected to be available in limited quantities on July 7, 2019, for $499 USD.