At E3 AMD released the world's first 16 core mainstream CPU in the market. Its give you HEDT performance at a lower price and in a mainstream platform.  But a PC said to be using the Ryzen 9 3950X CPU appears to beat the 18-core, 36-thread Intel Core i9-9980XE in multi-core performance in a leaked Geekbench test result. Now, this a whole new level of performance from a mainstream CPU that we never see before.  
AMD Ryzen 9 3950X vs. Intel Core i9-9980XE
The performance numbers for the AMD Ryzen 9 3950X processor were revealed in Geekbench 4 (via TUM_Apisak). The system was running on an AMD Myrtle platform, the codename used internally for AMD's test platform. It has used 32 GB of RAM at 4100 MHz. It scored 5868 in single-threaded workload and 61072 in multi-threaded workload which is highest we have ever seen in consumer CPU.
If we compare it with Intel's i9 9980XE HEDT processor, we can see that Ryzen 9 3950X beats i9 9980XE in single-threaded performance (5,868 vs. 5,395). But most significant is the multi-threaded performance where Ryzen 9 3950X perform almost 31 percent better over the i9-9980XE, which scores (on average) only 46,618 points, according to Geekbench.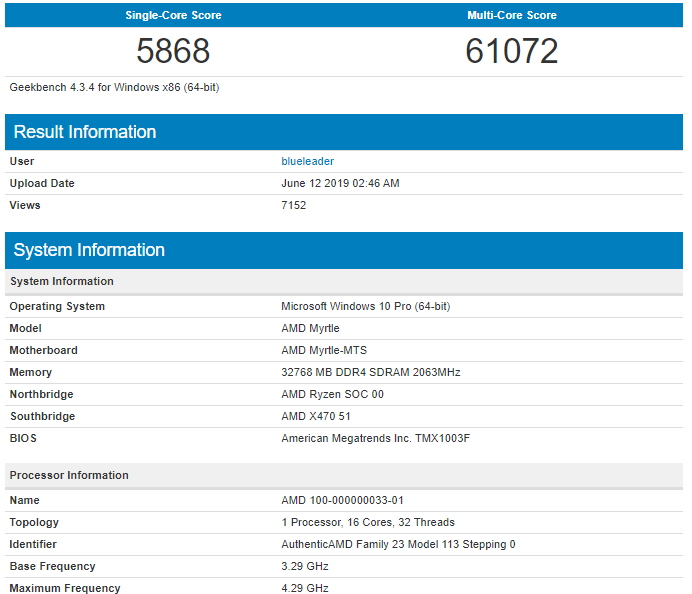 But we don't know much about the Ryzen system. We don't know the actual clock speed it runs. In Geekbench it only shows base clock 3.3 GHz and the boost clock is 4.5 GHz. So it might be possible that it is an engineering sample because AMD marketed that the base clock will be 3.5 GHz and the boost clock 4.7 GHz. If so then it possible that in the future when the retail unit will release with proper clock speed, the score will be much higher. It is also very important that the price of Ryzen 9 3950X is almost $1200 lower than the Intel i9 9980XE. Price of the CPUs makes AMD Ryzen 9 3950X more appealing to the consumer.
Ryzen 9 3950X vs. Intel i9-9900K
The mainstream flagship in Intel's lineup, the Core i9-9900K scores around 6200 points in single-core and 31000 points in multi-core. Intel i9 9900K has higher single-core performance due to the 5 GHz single-core frequency. But in terms of overall performance, AMD is not far behind. And as we discuss that it can be an engineering sample. So the retail unit can score higher and if we give it a 5GHz overclock then the situation will be completely different. Robert Hallock confirmed that 3rd Gen Ryzen processors are equipped with the latest Precision Boost Overdrive algorithm which allows you to override the default boost clock by up to +200 MHz in addition to expanded TDP/EDC/PPT limits.
Conclusions
At E3 event AMD themselves showed that Ryzen 9 3950X beats Intel i9-9960X. Furthermore, AMD didn't test the new chip on the latest Windows 10 1903, which brings a new scheduler that better handles the intercommunication between the Ryzen CPU Core Complexes (CCXs). According to some users in Reddit, it increases the performance by 10 percent. And also if we have to disable hyperthreading to patch MDS flaws, it can reduce the performance of Intel's chips by 10-20 percent, according to some third-party benchmarks.
Given the situation, if AMD Ryzen 9 3950X can perform anywhere near i9-9980XE if not better then it is a big win for AMD. Because of the lower price of AMD CPU, it is no surprise that many builders will choose AMD for a cost-efficient build.