It has been a week Intel launched their 9th Gen laptop CPUs, now leaks are coming about the 10th Gen Intel CPUs. New leaks suggest that the Intel will launch their 10th Gen CPU at late 2019. According to the latest details, Intel will launch 14nm Comet Lake-U and 10nm Ice Lake-U CPUs. The Intel Ice Lake-U processors would be available in limited quantities around June 2019 while Comet Lake-U processors would start shipping to consumers in Q3 2019. Although we should take all of these with a grain of salts. Things can change between now and the time of launch.
What We Know About These Upcoming 10th Gen CPUs
14nm Comet Lake-U and 10nm Ice Lake-U CPUs will launch very close to each other. Both will have 10th Gen branding and will have several models of Core i7, Core i5, and Core i3. Intel has gone with 10000 series model naming after they are done with 9000-series 9th Gen lineup.

10th Gen Comet Lake CPU
Intel has gone with 14 nm processing node for yet another time. And it seems like 14nm CPUs could be used for suitable target markets till at least 2021. Comet lake CPUs will be U series CPUs and has a TDP of 15W. These CPUs are mainly for slim laptops and small form-factor PCs.



10th Gen Ice Lake CPU

Intel will launch 10th Gen CPUs with integrated GPUs on them and those will be very likely 10th Gen Ice Lake CPUs. Ice Lake CPUs will have 10 nm processing node. For these CPUs, Intel will use Gen11 GPUs with up to 64 EUs and AVX-512 support. Ice lake CPUs will support DDR4 3200 MHz RAM. These CPUs will have a TDP of 15W.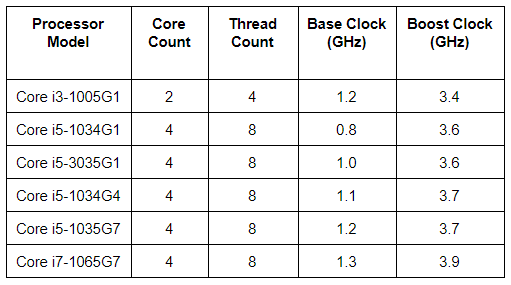 As I said earlier these are just early report and we should take these as a grain of salt. We are hoping for more details about these processors in Computex next month. What do you expect from Intel? Let us know in the comments.  
Source here